Security & Diplomacy
Overview
Registration is open for:
2024-2025
Program Length: 3 semesters (10 months)

Language of Instruction: English

Tuition: $16,900
There are various scholarship options available.

Admission Requirements:
Bachelor's degree in any field with a GPA of at least 3.2 on a 4.0 scale, or 80 on a 100 scale.

Application Deadline:
Rolling application (It is recommended to apply as early as possible)

The Awarded Degree: MA in Political Science - Security and Diplomacy Studies, International Program
Study Where it All Happens
This one-year M.A. program provides Next Gen diplomats with the skills and knowledge needed to bring about real change in a world struggling with never-ending tensions and struggles. And while you get to grips with a fascinating curriculum, don't forget to discover the Non-Stop City of Tel Aviv, itself one of the hottest diplomatic regions in the world.
Program Overview
Our Security and Diplomacy program is one for the Next Gen of leaders, those of you looking to stamp your diplomat skill-set and security knowledge on an ever-challenging world.
The program provides you with advanced knowledge and analytical tools in order to take onboard key strategy, diplomacy, and decision-making skills. These skills ensure you have what it takes to shape a security and foreign policy on a global level - with a focus on the Middle East, probably the world's most fiery spot to practice those newly acquired skills.
Expect to be tutored by internationally renowned scholars and leading practitioners in both security and diplomacy, providing a fascinating and truly exceptional learning experience. You'll also go on educational tours and meet with Israeli and foreign officials as part of the curriculum, an inspirational way to get a real hands-on feel for diplomacy on the ground.
You're undoubtedly already aware of the world's focus on Israel and its immediate neighbors, in both security and diplomacy matters; this is your chance to enroll in a unique, localized program with internationally renowned scholars and leading practitioners in the region.
Program Highlights
Enjoy a multidisciplinary approach to studies, with a compelling curriculum.

Complement excellent classroom theory with security field trips and extracurricular activities for some incredible "on the ground" insights into security and diplomacy in the region.

Equip yourself with some advanced knowledge and analytical tools for the study of strategy, diplomacy, decision-making and the shaping of security and foreign policy.

Apply your studies to a global outlook, but with a special focus on Israel and the Middle East, one of the world's "hottest" diplomatic regions.

Take the opportunity to engage with high-ranking diplomats and decision-makers in a weekly ambassador forum.

An optional 1-year thesis track is available.
Career Success Stories
Our Security and Diplomacy graduates are prepared for some fascinating careers in the international arena, including defense bodies, international organizations (both governmental and NGOs) and international economic organizations.
Alumni and current students have gone on to secure jobs and internships at Israel's preeminent think tanks, embassies, media and advocacy organizations, the United Nations, private security companies, and other public and private employers.
---
NEW!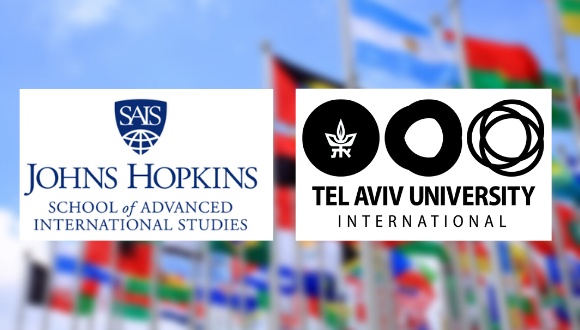 Passionate about the social sciences? Click on the image above and find out more about Tel Aviv University's dual MA degree program with Johns Hopkins SAIS.