Cyber Politics & Government
Cyber Politics & Government
Overview
Registration is open for:
2024-2025
Program Length:
​1 Year (3 semesters)

Language of Instruction: English

Tuition: $11,000

Admission Requirements:
Bachelor's degree in any field with a GPA of at least 3.0 on a 4.0 scale or 82 on a 100 scale.
Note - there is a thesis option.

Application Deadline:
Ongoing rolling admissions

The Awarded Degree: MA in Cyber Politics and Government
Your Gateway to the Cyber Era
This new one-year M.A. Program provides you with a skill set for taking on many of the varied cyber challenges faced at many organizational and governmental levels. Get a taste of Israel's innovative spirit, while simultaneously discovering the non-stop metropolis of Tel Aviv.
Program Overview
Cyber Politics and Government is a recent addition to our wide and varied collection of degree programs. This program will pique your interest in discovering how technology can help bridge the gap between strategic governance and policy.
When enrolling in this program, expect to take onboard the critical tools needed for developing strategic planning, management and leadership in the ever-challenging and cutting-edge world of big data and cyber threats.
You'll experience Israel at its innovative best, as Israel is renowned globally for its centers of cyber leadership in strategy and technology. At TAU, you can expect world-leading researchers and research centers — and the center of the new "Smart Systems" national initiative.
Our Program Head, Professor Eviatar Matania, is the founder and former Director General of the Israel National Cyber Directorate (INCD). He was appointed to oversee Israel's overall cyber policy and its implementation, as well as for the advancement of Israel's cyber ecosystem. Matania and fellow faculty members are renowned leaders in the cybersecurity and policy field, another excellent reason why this program has to be on your career-defining shortlist as he explains:
"The Cyber Politics and Government Program builds a bridge between the technology world and the field of corporate policy and strategy, critical issues for any organization's ability to adapt to the future world, which is rapidly evolving based on cyber technologies." — Prof. Eviatar Matania
You'll also get an understanding of the impact of cyber challenges on societal, governmental, corporate and organizational levels. In addition, you'll learn how to make all-important decisions in risk management, compliance, budget, reputation, policy and strategy.
Hear from the Head of the Program, Prof. Eviatar Matania:
Program Highlights
As part of the next generation of leaders, executives and policymakers, you'll be provided with the skills required to lead organizations during the cyber era.

You'll educate future generations how to handle auto-didact studying in an ever-changing cyber world.

You'll get to develop the strategic capacity to develop policy and to lead societies in an ever-challenging and dynamic cyber era.

Enjoy cultural evening activities and overnight excursions around the country, in addition to the coursework.

An optional 1-year thesis track is available.
Career Success
Our Cyber Politics and Government graduates will have all the critical tools needed for a successful career as policy or organizational leaders. With this degree as part of their skillset, they can expect to be wooed by some of the leading lights in the cyber policy arena.
---
NEW!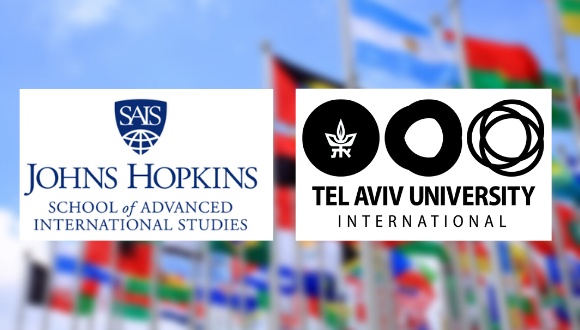 Passionate about the social sciences? Click on the image above and find out more about Tel Aviv University's unique cooperative MA degree program with Johns Hopkins SAIS!