Are You A Foodie? Check out Highlights from Shuk HaCarmel
What is the best place for all Israeli food lovers? Of course, the Shuk HaCarmel!
What is the best place for all Israeli food lovers? Of course, the Shuk HaCarmel! Certainly, you have already heard of this loud and dynamic gem in the heart of Tel Aviv. Whenever you are up for real, Tel Avivian adventure – go and make your way through the crowded and colorful paths of the Shuk, bargain with the vendors and buy the most delicious, fresh veggies, fruits, spices.. and much more! The Shuk is incredibly vibrant and full of people on Fridays, so if you prefer a calmer experience, you should go from Sunday – Thursday.
However, the Shuk is not only a place to buy your groceries but also a central point for all kinds of exciting restaurants, cafés, and food stands. Exploring Israeli cuisine is a great idea to take your friends and eat yourself through the Shuk and its surrounding. And to help you with this a little, we have put together a few of our favorite places on and around the Shuk for you!
Sabich Tschernikovski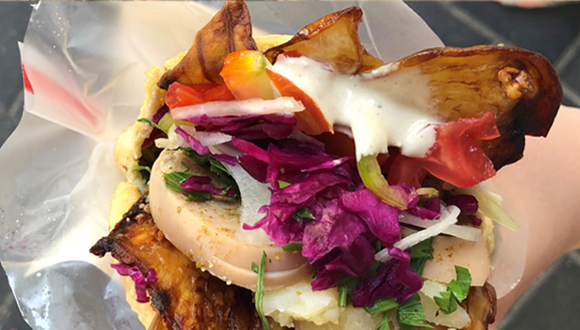 Have you already heard of Sabich? It's one of the most delicious alternatives for Falafel and a must-try. This typical Israeli dish is a Pita, traditionally filled with fried eggplant, potato, and egg, as well as a ton of fresh and pickled veggies. Don't forget to ask for an extra splash of Amba sauce!
Tchernikhovski St 2, Tel Aviv-Yafo
Hamalabiya
From the Sabich place, it does not even take 2 minutes to get to Hamalabiya. This is one of the best places to try one of Israel's most famous desserts – Malabi! It is a beautifully served milk pudding with rose syrup. And, of course, you can choose between a vegan and a dairy option and go wild on the toppings!
Gedera St 28, Tel Aviv-Yafo
Shlomo & Doron Hummus
Of course, you would not have the full Shuk-experience without trying one of the favorite dishes of most Israelis. Hummus is a big thing here; trust us; it's delicious! Shlomo & Doron serves all kinds of Hummus plates with many different add-ons. If you are too full to eat a whole Pita, dip onion slices into the Hummus. It's refreshing, savory, and just perfect!
Yishkon St 29, Tel Aviv-Yafo
Fifi Cocktails Shack
Are you full after a big Hummus plate or just not in the mood to eat? Around the Shuk, you can also find a variety of small, cheerful bars. And if you like margaritas, Fifi Cocktails Shack is the right place for you! They serve various kinds of ice-cold margaritas and are always in a good mood, living up to the name of the street: Yom Tov  [Good Day] 
Yom Tov St 14, Tel Aviv-Yafo
Kiortosh
To round up, another sweet goodness to explore is the Babka. It is a sweet, braided cake that originated in eastern Europe. Try the chocolate babka at Kiortosh and ask them to warm it up; the melting chocolate is heavenly!
HaCarmel St 11, Tel Aviv-Yafo
Enjoy the Shuk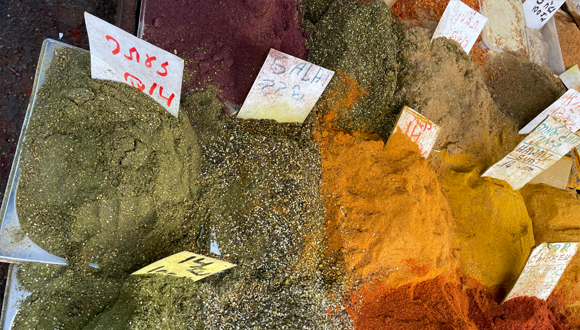 There are plenty of little food stands on the Shuk's main street. You can walk around and try the delicious nuts, dates, filled wine leaves, and other snacks. One very much try-worthy bite is the Kubbe – fried balls, mainly with bulgur or another crop and minced meat. And remember that the various spices at the Shuk are not only an enrichment for your cooking but also a lovely gift for friends at home!
HaCarmel St, Tel Aviv-Yafo