1st TAU International Week on Campus
Take a look at this recap of events from last week's German International Week!
December in Israel brings a turn of winds in terms of weather, making many want to spend the days cozily inside. Between the grey days, the sunny ones seem to sparkle even more.
It was just TAU's luck that the first International Week turned to be greeted with bright skies, surely highlighting the intriguing events that brought so much light to the campus.
The first-ever International Week began with Germany. To start with this country meant to embrace the deep political and cultural ties that Israel has with Germany and understand that it was necessary to bring the magic of Christmas to TAU!
Actually... TAU holds over 50 active agreements with German institutions, making Germany the largest partner of TAU in Europe (3rd in the world after US and China). 
Further below you'll be able to get a taste of the past week at Tel Aviv University during German International Week.
December 12: ANU Museum and Student Party
The first day of International Week managed to combine two important events into one evening. An intimate group of students and staff came to the ANU Museum of the Jewish People to firstly learn the deep roots of Jewry in Germany.
Did you know that the term "Ashkenazi" (a Jew of European descent) is closely related to Germany? Though Ashkenaz was a biblical character, the term later became associated with the area of Western Germany in the Middle Ages, as many Jews came to inhabit the region.
Those in attendance became acquainted with the feats of German Jewry spanning back to the Middle Ages, all the way to seeing their standing today. The tour ended in the Hallelujah Gallery on the 1st floor, with the model of Berlin's Neue Synagogue, which survived Kristallnacht.
After this important excursion, all were invited to the Miflat Student Bar for an evening celebrating German culture through beer, dancing, and of course, tons of Santa hats!
December 13: A German, Winter Journey
In the span of two days, various TAU teams managed to take the campus on a true winter journey through time.
On Monday afternoon at the Sourasky Library, four academics of the School of Cultural Studies gathered in front of a crowd of 80 people to discuss compelling cultural figures of the German language like Kafka, Walter Benjamin, Goethe, and Heinrich Heine.
German prose and poetry are far from a dry affair, rather they are filled with emotion and deep connections between German tongue and experience. It is valuable to consider how far the words of German literary figures have made it – all the way to the research of TAU academic staff.
After an afternoon filled with DAAD (German Academic Exchange Service) sessions on student, academic, administrative, events guests were able to absorb the German film night with great hopes that TAU has strong connections with universities in Germany who can provide frameworks for educational travel.
And how could we dive deeper into German culture without a movie night? Tel Aviv University's Steve Tisch School of Film and Television screened a classic of the black-and-white screen: The Oyster Princess (1919). The director Ernst Lubitsch began his film career in Germany, eventually moving to America to become a famous figure in Hollywood, going on to direct Hollywood hits like The Shop Around the Corner (1940) and To Be or Not to Be (1942). As the film centers around an American oyster magnate's daughter, it serves as a sort of looking glass to the world Lubitsch would one day occupy. Through Lubitsch's German world, passion, dance, anarchy, and the breaking of gender and status conventions are celebrated in ways beyond the Hollywood framework.
December 14: Romantic German Song and The Buchman-Mehta School of Music
Du bist die Ruh,
Der Friede mild,
Die Sehnsucht du,
Und was sie stillt.
You are repose
and gentle peace.
You are longing
and what stills it.
- Friedrich Rückert (1788 – 1866)
On Tuesday evening, one of the most breathtaking events related to International Week was held at the Buchman-Mehta School of Music. The phenomenon of the nineteenth-century German art song was explored through a rendition of the poet Friedrich Ruckert's text: "You are Repose".
The 21-year old Yaara Attias, vocal student of the School of Music in Professor Sharon Rostorf-Zamir's studio, performed a selection of settings of Ruckert's poems, including two contributions by Israeli composers.
December 15: Christmas Market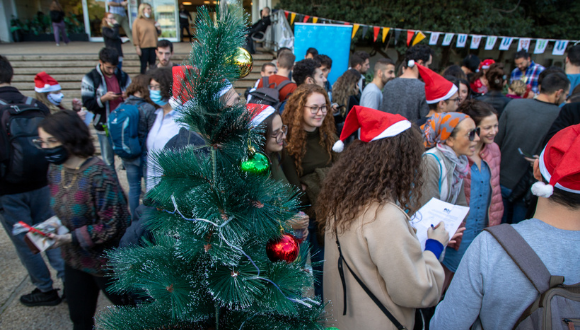 To say that everybody was waiting for this event to happen is an understatement. Students and staff from all parts of campus counted down the days to drink Glühwein and eat sweets, hoping for Christmas trees to bring a bit of jolly spirit to the campus.
Our community ended up getting so much more: carolers, money raised for charity, and beautiful weather that decorated the day. To see everybody's smiling faces was an uplifting experience, knowing that no matter the world situation, the University can come together to celebrate the holidays with style.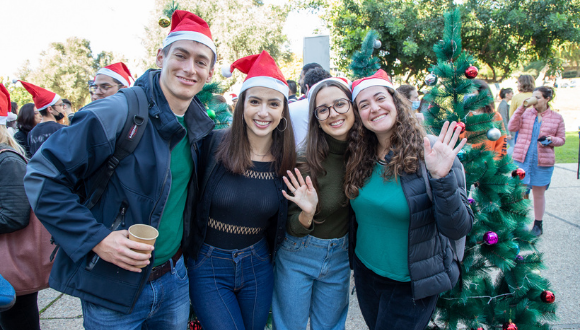 December 16: Policy In Practice
On the last day of German International Week, the University and our partner institution in Frankfurt, Goethe University, made history by signing on academic collaboration to establish a joint Center for Interreligious Studies. The center will promote research on religion, in an area that both universities specialize in. The two universities will conduct joint research, hold academic conferences, and train students and researchers in this area.
The initiative promotes further internationalization of Tel Aviv University, further collaborating with the minds of the world through academic promises and ventures.
After an impactful event like that of Thursday morning, the German Language Department opened its doors for a closing event, wrapping up on the week of everything-German and excitement with a workshop on culture through language.
The Star on the Tree
Finally, after the Language Workshop, we have the perfect words to conclude with, expressing genuine gratitude to everyone involved: Danke Schoen! The German Embassy to Israel, our partner institutions, the TAU Student Union, all levels of the Tel Aviv University faculty and staff, and students deserve a great round of applause for helping to make our holiday dreams come true. 
TAU International Week is a series of events that will stay on campus from now on, appearing every couple of months as a different country, and bringing the world to students and staff.
These events are produced to not only connect the entire TAU campus with new cultures and experiences, to see them through a lens curated by TAU team members with great care, but also to bring pieces of home back to students studying from all over the world.
Get ready: After this German, winter journey, our next stop is BRAZIL!