Yiddish Summer Program
Overview
Registration is open for:
Summer 2023
Program Dates:
Arrival – July 2, 2023
Orientation – TBD
Class Starts – July 5, 2023
Class Ends – August 1, 2023
​Dorms Last Day – August 1, 2023

Academic Credits: 5

Application Deadline:
June 1, 2023
Please note: We reserve places for non-students who are working in the arts profession and are planning to incorporate Yiddish into their artwork in any form. If applicable, please make note of these plans on your application form.
Globally recognized as a program that truly brings the language to life, this Yiddish language summer course provides you with the essentials of this age-old language. Study the roots of this fascinating language and culture as you discover modern-day Tel Aviv at your doorstep.
Program Overview
Our Yiddish language program is for those looking to research and uncover the secrets behind this ancient Jewish language.
Enjoy a program available to all levels, whether you're a complete Yiddish beginner or an advanced speaker. You'll also focus on both the Yiddish language and literature. Benefit from highly-qualified and experienced teachers in small classes who will take you on a journey of language discovery. You'll also benefit from 5 credits awarded for successfully completing the program.
Another key element of this program is the morning language learning classes – leaving plenty of time in the afternoon for joining compelling lectures, conversation workshops, and tours.
Program Highlights
Benefit from 5 academic credits at one of the world's best universities.

Stimulate your mind by learning Yiddish, the age-old Jewish language, with expert tutors and plenty of opportunities to practice your newly-acquired skills.

Explore Israel's wonders via fascinating overnight excursions and cultural activities across the country.
Be a Mensch. Learn Yiddish!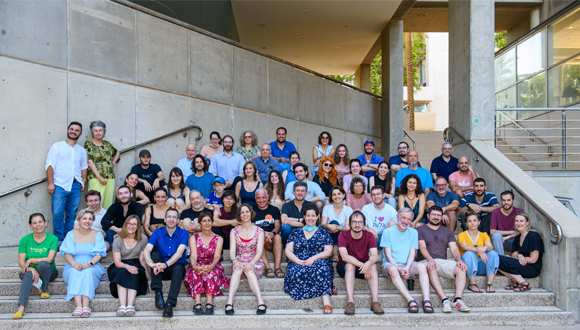 Yiddish Summer Program - Class of Summer 2022
​
Visit the Yiddish Program website.