Neuroscience
Overview
Registration is open for:
2024-2025
Program Length: 2 years

Language of Instruction: English

Tuition:
Tuition and living assistance will be covered for accepted students.

Admissions Requirements:
An average of 88 or above in a B.Sc. or B.A. in neuroscience, life sciences, psychology, or any other degree like exact sciences, engineering, or linguistics (see
Admission Requirements tab
)
Application Deadline:
Registration for 2024/25 closes on March 20, 2024 at 2pm (Israel time).
Candidates who meet background and academic requirements shall be invited for an admittance interview.
The Awarded Degree: M.Sc. In Neuroscience
This two-year M.Sc. program will provide you with the interdisciplinary thinking and knowledge to join the next generation of world-leading neuroscientists. And while you get to grips with the inner workings of the brain, don't forget to discover the Non-Stop City of Tel Aviv on your doorstep…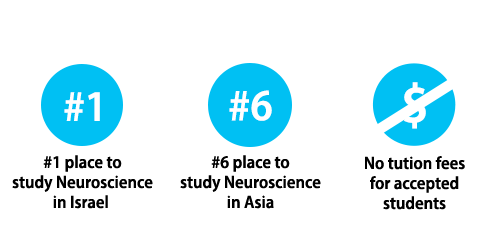 Program Overview
Our Neuroscience program is for those of you looking to specialize in foundational research areas in neuroscience. Held at the renowned Sagol School of Neuroscience, the program will train you in the latest cutting-edge neuroscience fields related to biology, psychology, engineering, and other related fields.
Expect a program unique in its diversity, with neuroscience courses taught at eight different faculties, covering a huge range of topics. You'll enjoy courses at the molecular level, through the systemic level and all the way to computational neurobiology, behavior and cognition.
You'll also have access to the latest neuroscience research conducted in over 150 labs on campus, research that has focused on a great variety of neuroscience topics. Be ready to discover how the brain functions from the molecular to the cognitive level, learn about the development and perfection of biomedical devices, explore the mechanistic understanding of nervous system disorders such as autism, ALS, Alzheimer's and Parkinson's, and take onboard the mathematical modeling of complex processes, from protein dynamics to learning and decision-making.
With TAU recognized as a world leader in the study of brain science and neurodegenerative disease, and with more drug candidates in the pipeline for Alzheimer's disease than any other university in the world, your neuroscience education - and career potential - are set to reach new heights.

Hear from the Head of the Sagol School of Neuroscience, Prof. Yossi Yovel:
Program Highlights
Expand your knowledge in specific neuroscience areas of research, while enjoying access to over 150 laboratories associated with the Sagol School.

Take advantage of both an empiric experience as part of a research thesis, and a variety of knowledge-expanding classes.

Benefit from an enhanced living scholarship and a full-tuition exemption.

Learn advanced quantitative methods in diverse areas, led by world-renowned neuroscientists.
Career Success Stories
Our Neuroscience graduates have gone on to enjoy a variety of inspiring post-graduation career paths, including:
Higher education and research institutes

Hi-tech research and development of artificial intelligence and man-machine interfaces

Advanced technology-based industries

Medical institutions

Biotechnological industries

Electronics
With the opportunity for industry networking, while completing our compelling courses, your neuroscience future never looked more promising….