Developing Countries
Overview
Registration is open for:
2022-2023
Program Length: 3 semesters

Language of Instruction: English

Tuition: ​$11,300

Admission Requirements:
Bachelor's degree (or MA) with a GPA of at least 3.0 on a 4.0 scale, or 80 on a 100-point scale

Application Deadline:​​
July 31, 2022 (It is recommended to apply as early as possible)

The Awarded Degree: MA in Developing Countries
In case of restrictions connected to the COVID-19 situation, please note that the program has put in place an alternative of long distance learning. If physical presence is not possible, you will be able to participate in your courses remotely and once permitted, resume them in person without this affecting your ability to complete the program.
If you are a current or incoming student, you will be kept up to date by our staff regarding any arrival, program, and instruction information.
---
This one-year M.A. program provides Next Gen leaders with the skills and innovation to truly bring about change in our ever-challenged planet. Become an authority in sustainable development and help ensure the futures of millions across the world – but don't forget to discover the Non-Stop City of Tel Aviv on your doorstep…
Program Overview
Developing Countries is a new program introduced in 2020. Ideal for pioneering Next Gen leaders looking to sustain and develop our growing planet, you'll learn how to become a true leader in your field, whether in academia, civil society, or industry.
Sustainable development is the defining challenge of our time. Meeting that ongoing challenge will require innovative ways to provide the global population with an environmentally sustainable and equitable supply of energy, water, and food. In turn, this will help improve health, livelihoods, and wellbeing, especially for low-income communities in developing countries.
As a student in this program, expect to take an active role in developing and field-testing practical and innovative solutions to crucial development challenges. These solutions will combine technological, cultural, psychological, and economic-behavioral dimensions.
One of the program's fascinating key elements is its engagement with Israel's renowned technological innovation and entrepreneurship ecosystem, and its own development experience.
Program Highlights
You'll take onboard the theoretical foundations and the practical skills relevant for implementing sustainable development.

Take your mandatory courses concentrated in a single weekday throughout the first and second semesters of the program. Electives and opportunities for practical experience are available throughout the week.

Get hands-on with some intensive fieldwork (both in Israel and with international partners in Asia/Africa) during the third (summer) semester.

Enjoy cultural evening activities and overnight excursions around the country, in addition to the coursework.

Choose between a regular (non-thesis) or research (thesis) track. The non-thesis track is for students interested in pursuing non-academic careers in sustainable development; the research track is for students interested in conducting cutting-edge applied research on sustainable development.
Career Success Opportunities
Our Developing Countries graduates can expect to have sterling careers in academia, civil society, or industry. With our planet facing ever-more challenging times, Next Gen leaders with the skillset and innovation to provide relevant sustainable solutions will have an assured role in the future of our world.
Get Inspired to Change the World
---
NEW!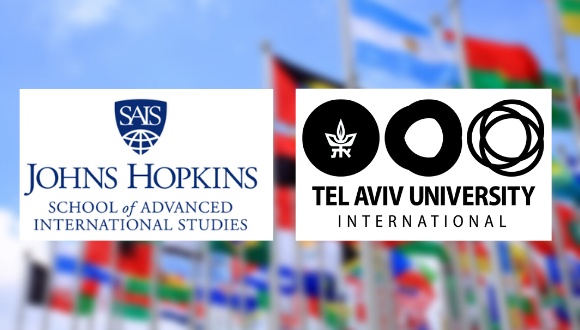 Passionate about the social sciences? Click the image and find out more about Tel Aviv University's unique cooperative MA degree program with Johns Hopkins SAIS!